VERO
Compact, economical, super-wide mobile camera @ 1.3/2.2 megapixels
Vero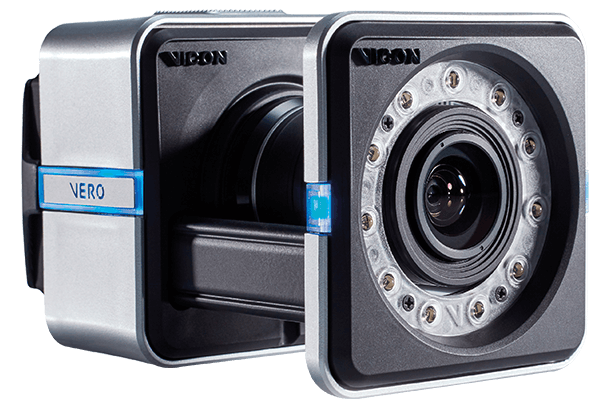 Vero
Compatible
Vero is compatible with Valkyrie, Vantage, Vue, T-series and Bonita
Status Lights
Keep up-to-date with your
System Status
Accelerometer
Enables camera selection
for simple system set-up and monitors camera position in real time
Tablet Control
Set-up your cameras, calibrate and capture, anywhere in the volume
Thermal Sensors
Detects changes in camera temperature that could affect your system status
Connectivity
Power and sync with a PoE+
Offering the best resolution, speed and price on the market
Vicon Vero will transform the way you think about motion capture.
With advanced technology, intelligent controls and intuitive design, it puts the power to capture in your hands.
Download Brochure
WHY VERO?
Power

Building on the success of Vantage, Vicon Vero combines market-leading resolution and speed at an unrivaled price point. Like its bigger brother, Vantage, Vero has on-board sensors that monitor camera position and temperature to ensure optimal performance at all times.

Flexibility

Vero's compact design means it is easy to mount, the custom made variable focus lens gives you an optimized field of view and its powerful strobe sees further.

Performance

Vero's performance belies its form factor. With an industry leading 2.2 MPX @ 330 FPS, Vero can capture sports movements or multiple actors with very low latency

Compatibility

Are you an existing T-series, Bonita or Vantage customer looking to add more? Vero is compatible with all of these cameras and the Vicon Vue video camera. With its affordable price, Vero could change your idea of motion capture.

Vero v1.3 X

For Vero customers who require a large volume in the tightest of spaces, typically tracking people in VR CAVEs, Vero v1.3 X has a larger field of view and tracks people from head to toe at shorter distances.
Compare Cameras
Model
v2.2
v1.3
v1.3 X
Resolution (MP)
2.2 (2048 x 1088)
1.3 (1280 x 1024)
1.3 (1280 x 1024)
Max Frame Rate (Hz)
330 @ 2.2MP
250 @ 1.3MP
 250 @ 1.3MP
330
250
250
Standard Lens
6-12 mm Varifocal
–
Wide Lens
6-12 mm Varifocal
4 mm Fixed Focal Length
Minimum Standard FOV (H x V)°
44.1 x 23.6 (tele)
27.2 x 21.8 (tele)
–
Minimum Wide FOV (H x V)°
98.1 x 50.1 (wide)
55.2 x 43.9 (wide)
79.0 x 67.6
Camera Latency
3.6 ms
3.4 ms
3.4 ms
Strobe
IR
Shutter Type
Global
Connection Type
Cat5e / RJ45
Power
PoE
Max Power Consumption
12W
Dimensions (mm) (H x W x D)
83 x 80 x 135
83 x 80 x 112
Weight (kg)
0.57
0.56
Updateable Firmware
Yes
Where can I find information about the Vero and Vue cameras?
How do I update the Firmware on my Vantage/Vero and mixed hardware?

A mixed or Vantage/Vero camera system needs to be on the latest firmware.  For version details, the FAQ: What is the latest version of Firmware?

If your computer is connected to the internet, the Vicon software will do a firmware check.  If a firmware update is needed you just need to click on the notification symbol and follow the instructions.  Otherwise follow the instructions below.

1. Please download the latest version of the Vicon Firmware Update Utility, extract the files from ViconFirmwareUpdateUtility_x.x.x.xxxxh.zip. Once complete, run the executable inside. This will install the Reprogramming Tool for the appropriate Firmware version on the computer.

2. Once the program has been installed make sure:

Vicon software is closed.
Vicon hardware is on.
Check your firewall; either disable or allow this program through the firewall.

3. Double click on the Vicon Firmware Update Utility to start the program. The program will automatically search for all Vicon hardware which can be updated. Click Next when ready.

4. A list of existing Firmware for all devices is now presented. You have the option to reprogram all devices.

This process can be slow.  Please do not interrupt the programming process.  Once the reprogramming is completed you will be able to go to the next page and close out of the programming tool.  If any cameras fail or you have further questions, please contact Vicon Support.
GET IN TOUCH
Vicon are here to support you on your Motion Capture journey. We're happy to provide more information, answer questions and help you find the solution you need. Get in touch with our experts today.