Location-based Virtual Reality demand continues as Sandbox VR announces six new locations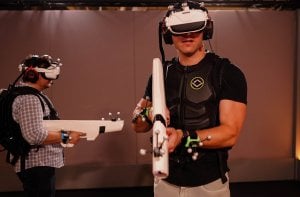 Oxford, UK – 27 September 2022 – Vicon, a world leader in motion measurement, has won additional contracts with Sandbox VR, a market leader in Location-based Virtual Reality (LBVR), as it announces the opening of six new locations.
Vicon's partnership with Sandbox VR began in 2019 to support the launch of the Amber Sky 2088 experience – bringing true free roam capabilities to Sandbox VR's immersive experiences for the first time. Vicon is used to track the movements of all players in real-time, with high-precision and low latency, to create a seamless in-game experience. Vicon's cutting-edge LBVR tracking technology has since been installed at more than 26 Sandbox VR locations worldwide.
Inspired by the Star Trek "holodeck", Sandbox VR offers futuristic VR experiences for groups of up to six people – powered by Vicon's LBVR tracking solution. The opening of the five new venues across North America and the first venue in London, UK, is the latest stage of Sandbox VR's ambitious growth plans following a $37 million Series B funding round led by Andreessen Horowitz in late 2021.
Steve Zhao, CEO at Sandbox VR, said: "I've always said that we started working with Vicon because we needed a true partner, not just a technology supplier. The support we've had from Vicon over the last few years has been incredible, and we're incredibly proud of the experiences that we have been able to create together."
Imogen Moorhouse, CEO of Vicon said: "Sandbox VR is a fantastic success story for location-based VR. The support for its expansion from both investors and consumers is both testament to the solidity of its business and a hugely encouraging signal for the entire LBVR market as we recover post-pandemic. The opening of the new North American and London locations is just the latest milestone, not just for Sandbox VR and Vicon, but for LBVR more generally as it grows into what is forecast to be a $20 billion market in the next five to six years."
ENDS
Vicon press contacts:
UK & ROW: James Lambert, Wildfire | [email protected] | +44 (0)208 408 8000
About Vicon  
Academy Award®-winning Vicon is an innovator in motion capture and the world's largest supplier of motion measurement systems. Established in 1984, Vicon serves customers in visual effects, object tracking, virtual and augmented realities, engineering, broadcast, biomechanics, sports and clinical sciences.
With thousands of customers world-wide, including Guy's Hospital, EA Sports, Bandai Namco, Sony, Dreamscape Immersive, MIT and NASA, the diverse applications for Vicon technology continues to grow.
More recently, Vicon has seen the demand for motion measurement going mainstream and applied to a broader range of applications than ever before with new markets including Location-based Virtual Reality and Elite Sports.
Vicon is a subsidiary of Oxford Metrics (LSE: OMG), the international smart sensing software company servicing government, life sciences, entertainment and engineering markets. For more information about Vicon, visit www.vicon.com.
About Sandbox VR
Sandbox VR is the world's premier destination for premium location-based virtual reality games. The company has created the world's most immersive full-body VR platform and boasts games you can't play anywhere else. Sandbox VR is now operating in 26 locations across five countries and expanding rapidly. Sandbox VR is headquartered in San Francisco, California with an office in Hong Kong. Sandbox VR's latest round has raised over $37 million from investors including Andreessen Horowitz, Alibaba Entrepreneurs Fund, Gobi Partners, and Craft. Individual investors include Justin Timberlake, Katy Perry, Kevin Durant and Will Smith.